The Easy WebContent Blog

The easy to use, do it yourself Site Builder and Website Editing System.
Tag Archives:
business
University of Maryland Alum and Biology Major, Payman Taei suffered with Crohn's disease during his senior year in 2000. Unable to attend classes and practically bedridden, Taei went from hell to heaven through his inspiring entrepreneurial spirit.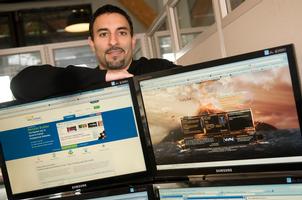 Being hindered from going anywhere allowed him to take up his second passion for digital art, where he started a coupon business and was asked one day by a gentleman to develop a website.
Walking up the golden gates of heaven, Taei then develops Hindsite Interactive and after 11 years, it is now one of Maryland's leading design and development firm. In 2011, International Business Times acknowledged his firm as one of the Top U.S. design firms. In 2008, Taei began to provide assistance and answered small business and startup web presence needs through the do-it-yourself Easy WebContent system. Once a man seemingly loosing control of his life is now a man helping entrepreneurs, start ups, small businesses and large Fortune 500 companies.
About Easy WebContent
Easy WebContent provides easy instructional tools that allows users to manage and create an online presence. It gives users total control when editing an existing website and building a new professional website. With the Easy WebContent, you are in charge! Visit EasyWebContent.com today.  For more detailed information about the product features, pricing, and free trial period, please visit www.easywebcontent.com
Blog Categories