The Easy WebContent Blog

The easy to use, do it yourself Site Builder and Website Editing System.
Tag Archives:
FAQs Help and Tutorials
Question: I need to edit my website how can I do this?
Answer: Easily manage your existing website with no complicated design programs to buy.
(more…)
The number one concern I hear from business owners at a number of networking events and one on ones with clients is, "I want to increase traffic onto my website/blog. How do I make that happen?"
I hate beating around the bush, so the reality is the process takes time. Sadly, these type A personalities are against time, as they say time is money. With the right tools and team, anyone can increase traffic. If you want to expedite the process, it will result to the amount of dollars you have in your pocket that you are willing to invest.
Posted in
How To
Tagged

business, Easy WebContent, FAQs Help and Tutorials, Google, how do i increase traffic, internet marketing, optimize my website, PageRank, Promotion, search engine optimization, Search Engine Optimization by Common Craft, SEO, Web Design and Development, Web search engine, website, what is seo
Leave a comment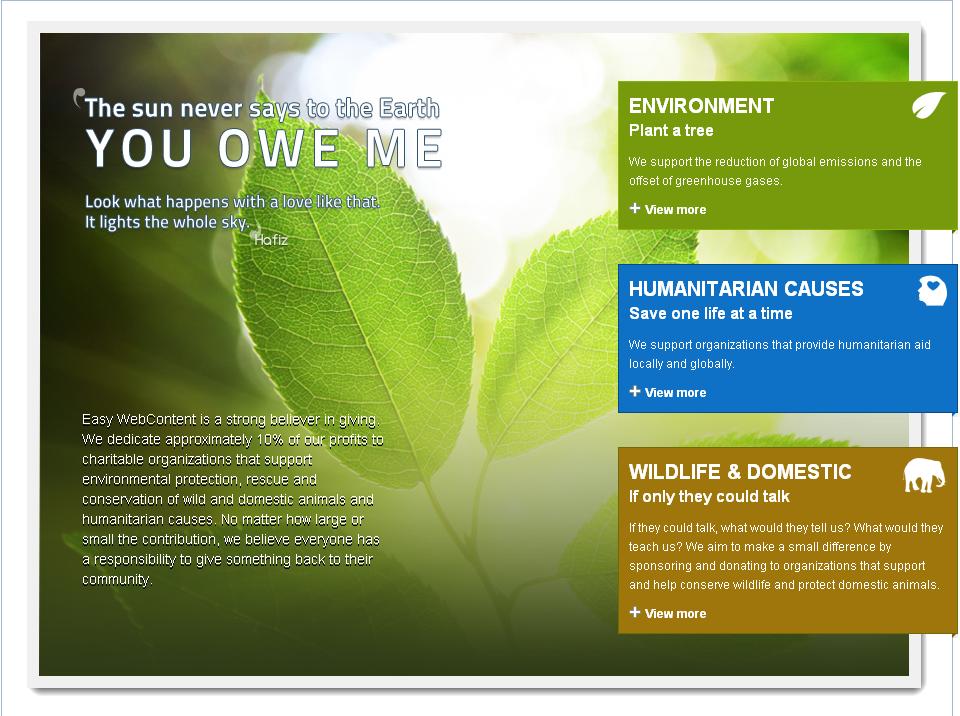 Who is the giveaway for?
Any Nonprofit worldwide that would like to have a brand new website.
Why are we giving a website away?
Easy WebContent is 'Giving Back'. We want to show how important it is to have a web presence and how cost effective it can be with the right web tools for any organization. Our Complete Site Builder package offers tremendous community outreach value. This is a great opportunity for a Nonprofit to win a free website and have the opportunity to work with a professional designer absolutely free. We'd like to wish all Nonprofits the best of luck – and we look forward to helping them develop an online home to inform their audience about their cause with Easy WebContent.
What are the rules?
Posted in
Uncategorized
Tagged

Canada, Cost-effectiveness analysis, Digital footprint, Domain name, Eastern Time Zone, Easy WebContent, Easy WebContent Facebook, facebook, Facebook features, FAQs Help and Tutorials, Google, Nonprofit organization, Site Builder, twitter, United States, Web Design and Development, Web page, WebContent, website, WordPress
Leave a comment
Blog Categories