Imagine spending five long, hard and tedious days on a website and then do the exact same website again, but this time only take only 15 minutes. Well while you were imagining Jakub Flaska was actually doing it.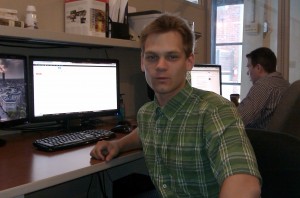 Jakub Flaska is a web developer for Easy WebContent. Flaska recently created two websites; one with Easy WebContent and one without and he compared the difference.  He says that with Easy WebContent everything was easier and faster.
"I am a programmer. On average if I hand code a site it takes few days to design a website", said Flaska."Using Easy WebContent I was able to do a simple webpage in just few minutes", said Flaska.
For the first website, Flaska used HTML coding and for the Second Website he made it with Easy WebContent. Flaska was so impressed with how little time it took him with Easy WebContent and he also sees how it can benefit others. He wanted to inform everyone about the benefits. He says that for him Easy WebContent saves you time in three ways.

1."Easy WebContent it is a WSIWYG editor, so you don't need to know source code of a HTML webpage".
2." It places your webpage to hosting server by itself. So you don't have to know, how uploading a website works (FTP)".
3."It also allows you to add features such as blog, photo widget, etc. You wouldn't be able to do this stuff that easy even in Dreamweaver".
Providing these ready to use features allows for people to be able to easily do everything themselves without any headache or additional stress. Flaska agrees and says that easy WebContent is not just for developers like him, but for anybody.
"I think Easy WebContent is a powerful tool for people, who are not web-designers, but want to create their own webpage quickly", said Flaska.
Flaska also says that Easy WebContent is an effective tool, which allows you to make basic manipulation with your website.
"You see the results immediately and can customize your webpage according to your needs", said Flaska.
"Unlike other web site-editors, this one offers a high level of customization. The other site-builders don't give you much freedom in page layout. Easy WebContent allows you to perform detailed manipulation with your web-content. It means, with a very easy-to-use tool, you can create very professional-looking web pages", said Flaska.
Feedback is always important. It allows us to see what we did wrong or right and also what we need to fix or add. This is why having an immediate response to your work is very beneficial. The fact that Easy WebContent provides instant feedback and even allows you to preview your work works in your favor.
Creating easy professional pages builds web presence while eliminating stress. Easy WebContent is not only a time saver, but also opens doors for opportunities for you and your business. If Jakub Flaska can create a website in 15 minutes imagine what you can do with Easy WebContent.
——————————————————
You Are In Charge Easy WebContent provides easy and powerful tools to manage and empower websites.  It gives the user control to edit an existing or build a new professional website. Visit EasyWebContent.com today to begin your free 14-day trial period! Also, learn how to become an Easy WebContent Affiliate