The Easy WebContent Blog

The easy to use, do it yourself Site Builder and Website Editing System.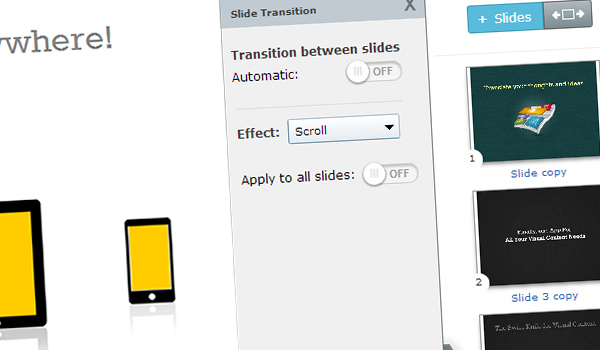 We have been receiving requests (or should we say complaints) over the last few months from multiple users who wanted the ability to create transitions that occur automatically between presentation slides.
You see up to this point you could create multiple slides (or as some call it slide decks) using Visme (formerly EWC Presenter) but could only allow viewers to manually click on the control icons or right/left arrow keys to transition between slides.

But some of you just wanted to automate this process;  "Why should I not be able to assign an automatic transition to my slides if I want to?" asked one user, and another complained "Why in the world do I have to do all my animation in one single slide if I want to have it automatically transition from one scene to another? It's kind of frustrating.."
Today we're glad to announce that you now have further control over your presentation and animation transitions!  It's so elementary but as user feedback proved, it was absolutely necessary to many.
Blog Categories