Down with the Old, Up with the New:  Today we announce the release of a new major upgrade of our cloud based Visual content creation tool Presenter which allows everyone with little to no experience to more easily turn ideas into professional Presentations, Infographics and Banners right in their browser.
The new interface has been fully redesigned from the ground up to dramatically improve user experience for new and existing users.  It is based on months of extensive user feedback, usability testing, flat design trends, and last but not least the demand for a front-facing UI (User Interface) that will support the release of new features to improve system capabilities in the months to come.
Why did we fully revamp the interface?
As our user base grew we realized our prior interface was facing a number of road blocks including:
- Effective use of Real estate for most users on wide resolutions was being hampered.
- Too much vertical space being used by interface elements often cutting parts of users's stage area.
- Required too many clicks to navigate through assets such as icons and shapes.
- Burden in uploading multiple images at a time.
A new interface is born:
With over tens of thousands of users signing up since our Beta launch and thanks to constructive user feedback Presenter has been transformed with extensive improvements baked into the latest version.
Presenter's new interface features a series of enhancements that further improve the user experience over the prior versions that include the following highlighted features:
Reduced clutter
We simplified the entire interface and eliminated as much clutter as possible so you can concentrate on your content and have maximum real estate to access functions when you need them.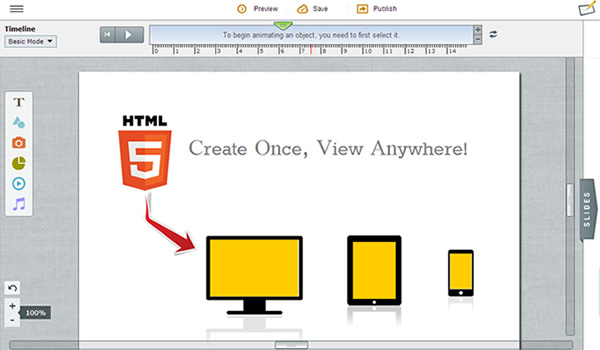 We moved the secondary options such as view, canvas size and account access to the top left along with project title and reduced clutter on top navigation.   Additionally we now take advantage of the left and right side of the screen to allow access to objects that were previously taking too much space on top panels.
Brand new Text Editor
Easily create crisp text that is Web and Mobile Friendly.  The entire text tool has been revamped and we now utilize Google fonts that give you more flexibility and support virtually any language.
Assets consolidated
Users can now dramatically improve the speed of accessing assets and insert various types of objects to their stage.   The left panel is now fully dedicated to different categories of assets.  You can drag and drop or simply click on an object to insert it to the stage.
With a growing library of free icons and images we needed to enhance the real estate for locating such items.  The left panel allows the user to take advantage of the area needed to navigate through assets.  We also have a free library and allow users to more easily access their own assets.
Image upload simplified
In the old interface if you needed to insert multiple images to your project, you had to one by one go through the browser, upload and then insert to your stage process; a total of 3 clicks for every single image upload.   So if you wanted to insert 5 images to your project you had to go through a total of 15 clicks!
The new interface drastically improves this process. Now you can drag and drop multiple images to your upload panel and can automatically insert all images at one time to your project; so in seconds you could do what took you minutes in the old interface.
Slide Panel
A new streamlined Slide Panel and template system to create Presentation slides faster. The Slides panel has been moved to the right so you can at anytime expand or collapse the area and tap into the Slide features.
Object Settings Panel
Now you can access all functions applicable to an object near the object itself.  This dramatically improves customization speed as previously users had to move to top or left panel to access the same settings.
As a result the new setting panel will allow you within one click to access layer order, color, duplicate, special effects, linkage and delete functions to left of the object when it is selected.
Animation Interface
We maintain the simple to use animation interface and presets to apply motion to any element on the stage in seconds and the ability to switch to advance animation mode to left of the area.
One click Publish  
We maintain the easy to use one click Publish.  This allows you to publish your work and shared it on your favorite social network, email link to your project, embed to your own website or blog, or simply download as an image (JPG); or as a digital document (PDF).
Zoom Capabilities
Default zoom is 100% but depending on the size of your project and your interface size it can reduce to a lower resolution.  You can manually zoom in and out via the one click zoom function.
We're also excited to introduce the undo function. It is further stabilized and allows you to undo prior steps by accessing the undo from top of the zoom functions.
Object Coordinates and Rotation
A must have for professional designers and a nice to have for everyone else.  On the top left of the interface when you select an object on your stage you can see the coordinates, size of your object and the rotation status.
This allows you to know the precise location and size of your object.   You can also manually click on any number and manually change it.
It's about giving everyone the means to communicate better
I believe everyone has vivid ideas and thoughts but most of us are often restricted to visualizing those ideas because of complex software and the high learning curves in turn making the process boring and restrictive. We're on the verge of changing that.
In a nutshell, Presenter brings together one simple yet powerful drag-and-drop presentation tool containing thousands of high quality assets, infographs and professional templates to enable visualization of thoughts into engaging content faster, simpler and more efficient than traditional tools.
Using Presenter the content creation process is not only intuitive but fun; everything the user does is visual and the application allows enough creative freedom to customize the content while keeping a balance with simplicity.  it can be used by virtually anyone and to date thousands of Students and Teachers have become avid users, while Designers, Bloggers, Website owners and content creators alike are adopting it as the tool of choice to support their visualization needs.
The new release inches Presenter closer to its upcoming rollout from Beta.  Presenter is free to all users and can be accessed at www.ewcPresenter.com