The Easy WebContent Blog

The easy to use, do it yourself Site Builder and Website Editing System.
Tag Archives:
Nonprofit organization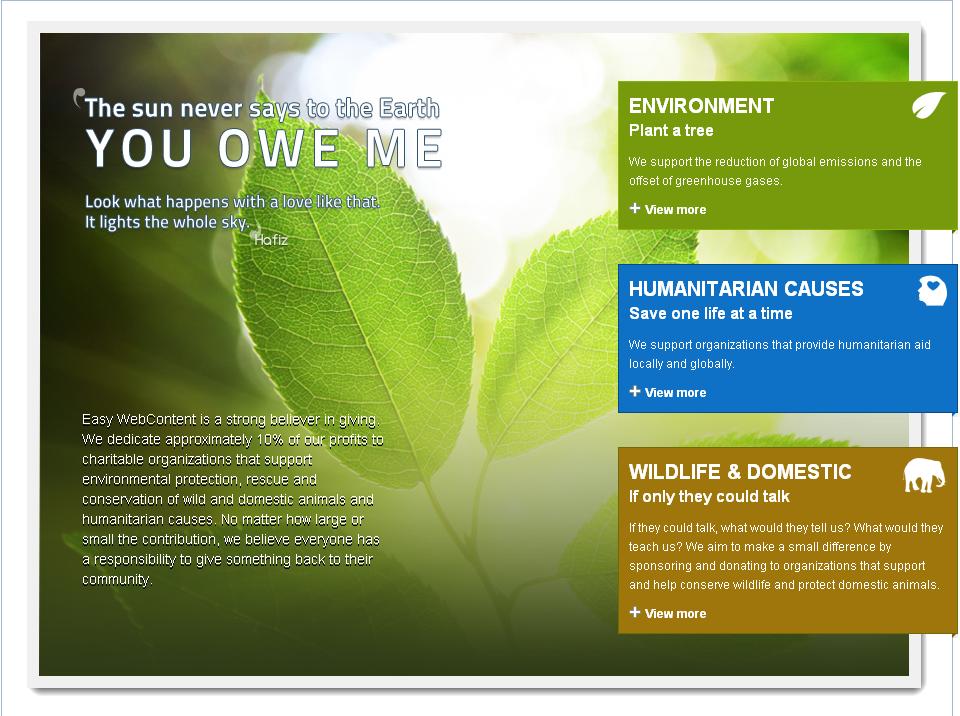 Who is the giveaway for?
Any Nonprofit worldwide that would like to have a brand new website.
Why are we giving a website away?
Easy WebContent is 'Giving Back'. We want to show how important it is to have a web presence and how cost effective it can be with the right web tools for any organization. Our Complete Site Builder package offers tremendous community outreach value. This is a great opportunity for a Nonprofit to win a free website and have the opportunity to work with a professional designer absolutely free. We'd like to wish all Nonprofits the best of luck – and we look forward to helping them develop an online home to inform their audience about their cause with Easy WebContent.
What are the rules?
Posted in
Uncategorized
Tagged

Canada, Cost-effectiveness analysis, Digital footprint, Domain name, Eastern Time Zone, Easy WebContent, Easy WebContent Facebook, facebook, Facebook features, FAQs Help and Tutorials, Google, Nonprofit organization, Site Builder, twitter, United States, Web Design and Development, Web page, WebContent, website, WordPress
Leave a comment
If there is one thing all people should have in common, it's caring. And despite the overwhelming consensus that people do not care, I am of the mind that we underestimate each other. People do care, because if they didn't we would never do anything good. Easy WebContent is proof of that. They give back 10% of their profits to foundations like World Wild Fund, and American Humane Association. This idea of giving, caring, is what sets companies like Easy WebContent apart. They want to share and leave a better world behind them.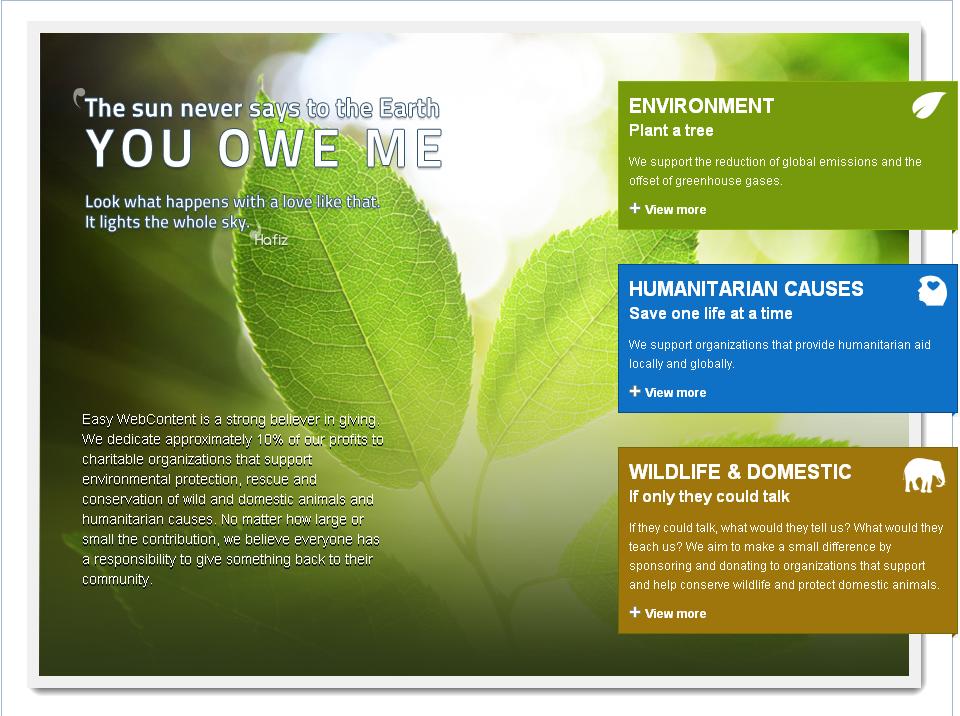 The good news for all you potential designers out there is that you have a friend in Easy WebContent. If you have the same concerns about leaving a better world then you can rest easy knowing that your host is helping. If you want to write a blog about these issues, or start your own foundation for those in need, then you can be assured that the money you are spending to do so is going to your same goals. Even if your focus isn't about these foundations but you still believe in a better life for the less fortunate, then you can know that you are supporting them just by working with Easy WebContent.
This one is short and sweet because the idea doesn't need much explanation. If you care, and you want to support those who can't support themselves, put your trust in a business who feels the same.
You Are In Charge Easy WebContent provides easy and powerful tools to manage and empower websites.  It gives the user control to edit an existing or build a new professional website. Visit EasyWebContent.com today to begin your free 14-day trial period!
Related articles
Blog Categories