Look, Listen, and Gather 'round for an opportunity to win a free website for a year!!!
Follow @EasyWebContent to win a free website!!!
Easy WebContent has a great opportunity for new business and young entrepreneurs! If you follow @EasyWebContent on Twitter, you will automatically be entered into a contest to win a free website.
Why is Easy WebContent is good for you?
1)      It's an easy way to create you're very own website, where you are in charge!


2)      It's fun and provides add-ons to enhance your page.


 3)      You don't need any advanced knowledge or technical skills.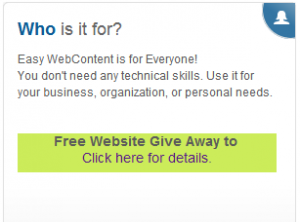 But the first step is to hop on twitter and click the follow button. There will be Twitter updates and video posts to keep you informed about the contest. So get to it, before it's too late!!!