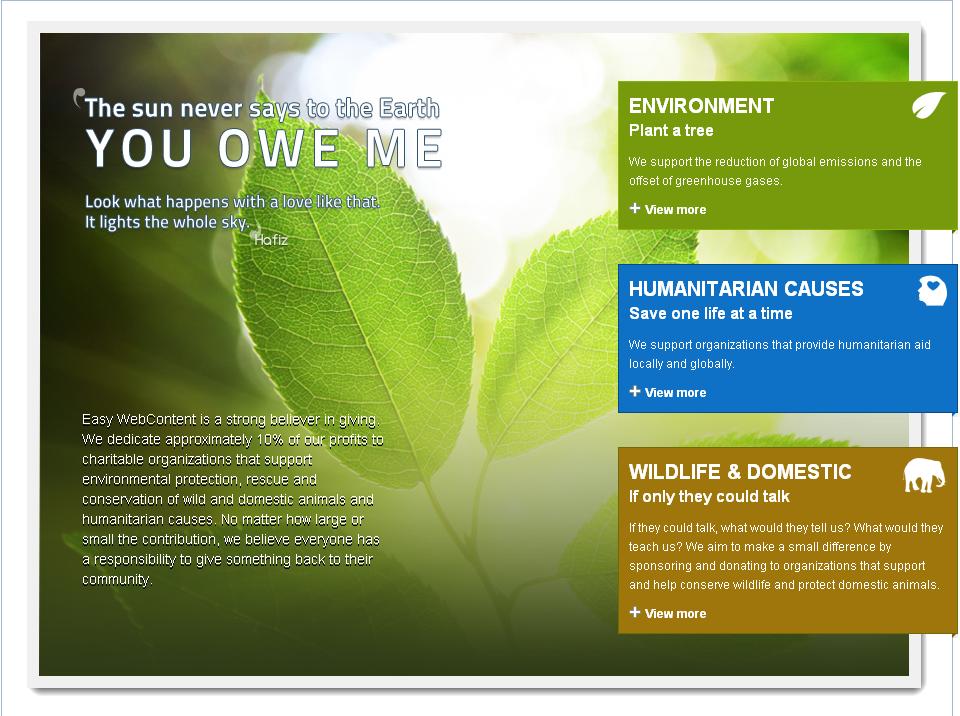 Who is the giveaway for?
Any Nonprofit worldwide that would like to have a brand new website.
Why are we giving a website away?
Easy WebContent is 'Giving Back'. We want to show how important it is to have a web presence and how cost effective it can be with the right web tools for any organization. Our Complete Site Builder package offers tremendous community outreach value. This is a great opportunity for a Nonprofit to win a free website and have the opportunity to work with a professional designer absolutely free. We'd like to wish all Nonprofits the best of luck – and we look forward to helping them develop an online home to inform their audience about their cause with Easy WebContent.
What are the rules?
Create your nonprofit homepage using the Easy WebContent Complete Site Builder. Yes, only your homepage.

Publish your nonprofit website to the web

Submit your newly created website by using your URL (ex. yoursite.easywebcontent.com or yournonprofit.org) onto the Easy WebContent Facebook page by the deadline, May 3rd at 8pm EST

Cast your vote from May 4-10. Vote by "Liking" the Nonprofit website you want to win in the Giving Back album.

On May 11th at 9pm EST the WINNER will have their Nonprofit website featured on the Easy WebContent Facebook cover. Best of luck everyone!
What does the winner get? (The Complete Site Builder plan for FREE)
Exclusive opportunity to work with Easy WebContent's  head Creative Designer
Easy WebContent Complete Site Builder Plan For 1 Whole Year
Fully hosted and managed on the powerful and secure Amazon Cloud Network
Unlimited Web Pages
50 GB Bandwidth
5 GB Storage Space
Custom Domain Name
All Website Add-ons
Priority Support
How many winners will there be?
One (1) lucky nonprofit will be chosen.
For Media: EWC's Giving Back Press Release