Easy WebContent is NOT just another HTML editor
Take advantage of our reseller program and offer the Easy WebContent service (HTML Editor) to your customers at an extended discount rate.
The Easy WebContent reseller program is the perfect solution to meet your customer's website editing needs and gives your business a completely new recurring revenue source.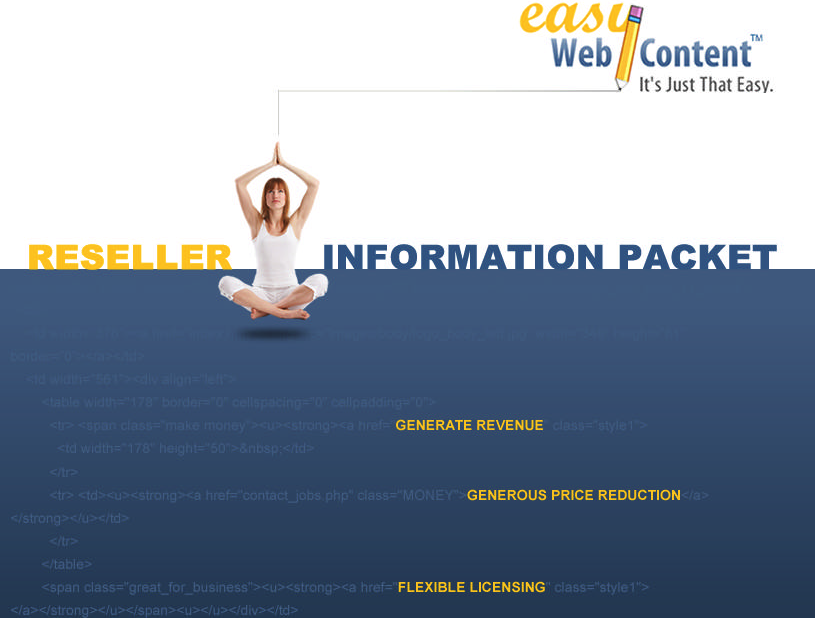 In a Nutshell You Get
A fully featured reseller interface that will allow you to easily manage your accounts and private-label the Easy WebContent service under your own name and logo!

Extensive price reduction
Between 35-85% cost reduction per account (depends on number of licenses)
Pay per license (no need to purchase in bulk; Pay as you need them)
Private Labeling
No use of Easy WebContent names on system interface
Add your own logo to interface
Easy Account Management
Add new customers on the fly
Edit and update customer information in seconds
Delete old or inactive customers in seconds
Reports and Statements
Generate detailed billing reports
Manage and update your billing information
View and print your billing reports
Announcements
Receive tips and updates on system features
Receive updated information on system improvements and new features
Support for questions and assistance with your account
Learn More About Our Program:
Download Information Packet
Email Reseller Manager
Register as Reseller