The Easy WebContent Blog

The easy to use, do it yourself Site Builder and Website Editing System.
Tag Archives:
new features
Easy WebContent is NOT just another HTML editor
Take advantage of our reseller program and offer the Easy WebContent service (HTML Editor) to your customers at an extended discount rate.
The Easy WebContent reseller program is the perfect solution to meet your customer's website editing needs and gives your business a completely new recurring revenue source.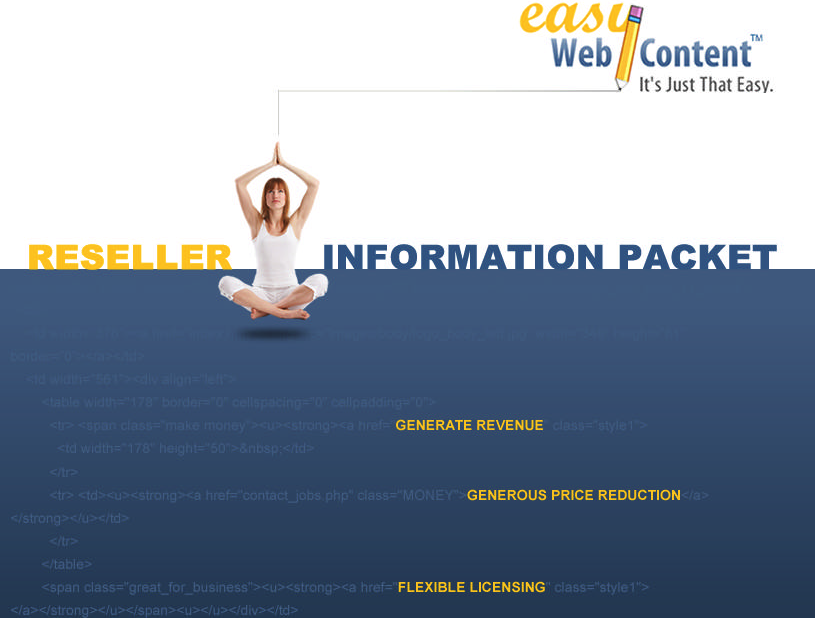 (more…)
Easy WebContent is the virtual version of Websites for Dummies.  No, you do not have to be dumb to use it, but if you are, no worries.
This website is very user friendly, making everything fun and accessible to visitors.  "You are in charge" is their slogan and it was proven to be true.  The website allows you to create, edit, and/or add new features to your website. It allows you to be in complete control.
There are five add-on features that will enhance your website, which include a Photo Gallery Maker, a Calendar Builder, a Flash Maker, a Music Player, and an Image Editor.

Blog Categories