The Easy WebContent Blog

The easy to use, do it yourself Site Builder and Website Editing System.
Tag Archives:
Online Communities
Easy WebContent's Site Builder has been given some upgrades to enhance its user-friendly platform. One of the new features is the Widget Guide that provides full guidance as you create and edit your website.
For those who don't know, Easy WebContent's Site Builder gives users access to several widgets and add-ons that can enhance the look and functionality of a site. It also allows for a lot more customization from the user perspective. There are several widgets to choose from. There are social media one, which include Facebook, RSS, Twitter, etc. Then there are the e-commerce add-ons that include features like Pay Pal, which can really come in handy when using the site for business. The last category of widgets is the Easy WebContent add-ons. This includes photo gallery, carousel, flash player, music player, calendar, and more.
All of these features can really enhance a website and make it more appealing to users. The new Widget Guide can also do the same! (more…)
Posted in
Uncategorized
|
Tagged

facebook, GUI widget, Online Communities, PayPal, RSS, social media, social networking, twitter, WebContent, website, Widgetbox
|
Leave a comment
Look, Listen, and Gather 'round for an opportunity to win a free website for a year!!!
Follow @EasyWebContent to win a free website!!!
Easy WebContent has a great opportunity for new business and young entrepreneurs! If you follow @EasyWebContent on Twitter, you will automatically be entered into a contest to win a free website.
Why is Easy WebContent is good for you?
1)      It's an easy way to create you're very own website, where you are in charge!


2)      It's fun and provides add-ons to enhance your page.


 3)      You don't need any advanced knowledge or technical skills.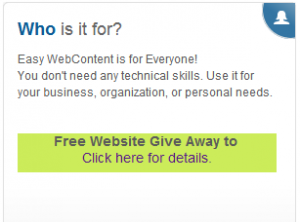 But the first step is to hop on twitter and click the follow button. There will be Twitter updates and video posts to keep you informed about the contest. So get to it, before it's too late!!!
Posted in
Uncategorized
|
Tagged

contest, Digital footprint, Easy WebContent, free, freebie, giveaway, Nonprofit organization, Online Communities, register, social networking, sweepstake, twitter, web design, web presence, WebContent, website
|
Leave a comment
STEP 1:
Make a Facebook, Twitter, and Tubmlr!!! These are necessary in today's society; its the easiest way to inform people about what you're doing.  These allow you to post less formal press releases with pictures, video, and some information.  However, these three websites have different formats and should be treated as such.
Facebook is the most formal of the three; it can be used to post photo albums, create events, and post press releases.  Facebook allows users to post more information than Twitter.  This challenges posters to gain readers immediately and keep them reading.
Posted in
How To
|
Tagged

David Karp, Easy WebContent, facebook, Google, Image, linkedin, Online Communities, pinterest, social media, social network, tumblr, twitter, website
|
1 Comment
Subscribe to our Updates!
Blog Categories