Lately we have seen a lot of conversations and tweets about SlideRocket users voicing their frustration and complaints about SlideRocket's upcoming shutdown and looking for a good alternative.
If you have been a SlideRocket user, we invite you to join EWC Presenter and its growing community of users and adopters.
What's so special about EWC Presenter?

- Technically It's a new breed of Web Application software: Based entirely on HTML5 with complete control over design and runs on the cloud.
- It's not just for Presentations.  In fact you can use it to create any type of visual and interactive content from Presentations to Infographics and everything between.
- It has an ever expanding library of assets; from simple shapes to gorgeous eye candy and vintage icons ranging in categories from food to animals, and various other icons.
- A great data visualization tool allowing creation of charts and graphs using real data to simple and easy to use infograph widgets
- Easy publish with ability to share across favorite social channels, emails and ability to Embed to any site or blog as well as ability to download as PDF or JPG formats.
- Push your presentation to SlideShare.
- Continual rollout of new features on a bi-weekly deployment schedule:   Meaning you get to enjoy new improvements and features under your existing account regularly.
- View and present from any web-enabled device.
- Great support with answers to your questions and inquiries.
Let's take a brief look at SlideRocket and the case of transitioning to EWC Presenter.
With millions of users joined since its inception, SlideRocket became one of the first and leading Cloud based Presentation tools on the market for some even replacing PowerPoint.  Over the last few years, tens of thousands of Students, Educators and businesses alike utilized SlideRocket and created Presentations and Slideshows that could be fairly easily shared online.   But just when users were starting to appreciate using SlideRocket and adopting it as their long-term tool of choice, as of December 31, 2013 SlideRocket is going away after being Acquired by ClearSlide and is going to concentrate more on the Enterprise market.
If you are a SlideRocket account holder, here's a message you will see when you login to your account: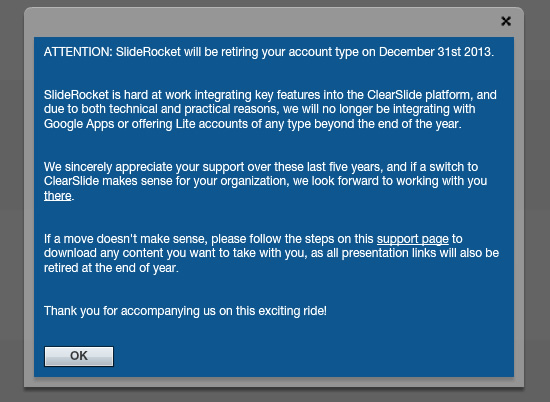 Technology behind SlideRocket  (Flash vs. HTML5)
Flash is a plugin owned by Adobe (the creators behind Photoshop).   Flash was "the" talk of the town among designers for years leading up to 2008 when Apple launched iPhone and iPad and neither supported the Flash plugin; without it any content created with flash would simply not load on those devices.
SlideRocket runs on the Flash plugin and is a result any project you publish with SlideRocket will not display on iPhone or iPad devices without their Plugin.
On the other hand HTML5 is the perfect replacement for Flash.  You see it is not a plugin, and so every single recent browser and device be it a tablet, smartphone, PC or Mac supports it and it is not going anywhere because it is so deeply embedded within each of these device's browsers and is in essence becoming the standard as its predecessor HTML was.
Long story short, HTML5 is allowing a new wave of web applications to be developed that take advantage of all it has to offer.   One of these is Presenter by Easy WebContent.
SlideRocket versus EWC Presenter – A quick comparison
| | |
| --- | --- |
| SlideRocket | EWC Presenter |
| Free | Free |
| Shutting Down Dec. 31st 2013 | Not going anywhere |
| Presentations | Presentations, Infographics, Banners, Animations, etc.. |
| Collaboration | Coming early 2014 |
| Basic Design Tools | Rich Design Tools |
| Basic Assets | |
| Private / Public | Public (Private coming soon) |
| Downlodable | Downloadable |
| Video/Audio support | Video/Audio support |
| Flash based | HTML5 based |
| Animation | |
| Sharing | Sharing |
| Analytics | Coming soon |
| Commenting | Coming soon |
What can it do besides just Presentations?
Short answer: a lot.  Ask yourself this question:  Aren't tired of having 10 different logins and subscriptions to various tools and applications let alone have to deal with the learning curve of each application as it has it's own way of doing thing.  Wouldn't it be great if you could use a tool that did more than one thing and did well?  it not only saves you money, but it creates efficiency and better workflow in productivity.
In case of EWC Presenter, businesses can use Presenter to better promote their products. Individuals can create presentations, For example on an e-commerce site one can create a product demo to better present their product and highlight key areas.   Bloggers can use it to better support and compliment their static text content, while students and teachers can translate their ideas to form engaging presentations and infographics, and the list goes on.
For example traditionally if you wanted to create a Presentation, you'd use Powerpoint, for Banners use Flash, for infographics and other design elements use Photoshop or illustrator and the list goes on.   Each of these applications has it's own restrictions and a learning curve different than the other and last but not least each costs hundreds of dollars.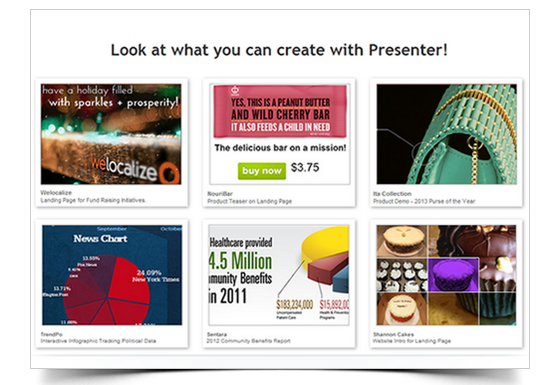 A quick overview of Presenter (Fast Forward to Minute: 5:36)
Easy WebContent Presenter offers users of all abilities a simple, streamlined tool for creating everything from custom graphics, facebook cover photos and logos to interactive presentations, engaging infographics, galleries and animations. A single-stop for the latest in dynamic content, EWC Presenter helps companies increase the productivity of their website or blog with a more engaging experience.
EWC Presenter is the only fully HTML5-based application designed to offer variety of features that are fit for both novice and experienced users including:
1). Templates for HTML5-based presentations, infographics, product demo, banner ads and pretty much everything else in between.
2). Drag and drop photos, videos, shapes, icons, audio and other rich media content directly onto the canvas and customize them.  Here's a taste of thousands of free assets available to users:
3). Animation tools for making presentations and infographics interactive and engaging.
4). Special effects for adding drop shadows and reflections to image, text and other content.
Publishing and embedding tools that allow creations to be viewed by anyone on any browser or device without special plugins as opposed to traditional tools that rely on flash.
I been using SlideRocket, is Presenter a good replacement for it?  Yes and it will be an even better replacement with each new monthly roll out.
Note: EWC Presenter is in late stage Beta; This means that although it's a fully functioning App and it is free (and will continue to be), it is undergoing regular upgrades and revisions and by early 2013 it will launch out of Beta and will be even a greater alternative to SlideRocket.
So sign-up for your free account today and start creating better Presentations and other visual content from one place.  And know that some of the features noted above are rolling out and will automatically become available to existing users.
If we can answer any questions or help with your transition, we're here to help!  and we love to hear from you.