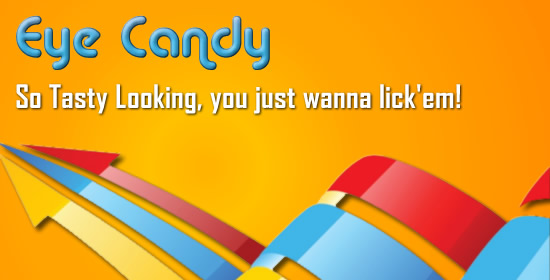 Back in July we released our Vector Assets starting with our Vintage class of icons.    What we're really excited about is the release of a new Category of Icons that are so crisp and colorful that you won't be able to resist using at least some of them on your next Presenter project.
Every single asset has been hand crafted by professional designers and illustrators. They're so tasty looking, you just wanna Lick'em!  Hence we decided to name this new category of assets:  Eye Candy.
A ton of high quality graphic assets right at your fingertips.
There are a ton of design and animation applications out there but most are either too difficult to use or too limited.  That's not the case with EWC Presenter.  We are hard at work with not just giving you a great platform, but an ever growing library of icons, shapes and images that will help you to create professional looking visual content faster than ever before.
If you have ever tried to create anything visual be it a presentation, graphic or anything else in between you likely faced a ton of frustration spending hours trying to locate visual assets (images, icons, illustrations) to supplement your content.
On top of that you have to deal with the concern of copyright and licensing (No you can't just search Google and take any asset since most high quality graphics are copyrighted)
Use Eye Candy to spice up your Content:
Your content doesn't have to suck and be boring, yet if you step back and look at your content be it a blog post, a presentation or anything else in-between it's often boring and not visual and won't connect with your audience.   It doesn't have to be that way.  You work hard to visualize your ideas and thoughts, so why not have tons of professional looking assets at your disposal to support your content?
We're on a mission to disrupt how visual content is created and we are inching one step closer with the release of Eye Candy assets. Use them in your Presentations, Animations, Banners, or even create custom graphics.

What does this mean for you?
- Easily locate a growing library of assets to use in your projects (Free without the need to license them)
- Save money!  Some of the assets in our library can cost you $15-25 a piece to license;  But you can use them free in your projects within Presenter.   Hundreds are available right now with many more to come, so make sure to keep checking back.
- Create more professional content using our high quality assets and supplement them with your own content.
- They are 100% VECTOR!  (What the heck do we mean?)
This is a goldmine in the digital world. If you are not a designer you probably never heard of the term.  If you put a small image (ex. JPG or .PNG) and make it larger than its original size, it loses quality and becomes pixelated.
That is not the case with our Assets!  Because they are Vector based.
Vector images are virtually mathematical calculations so they're light and very fast.  You can virtually make them as small and large as you want and the object will not lose any quality. It will appear crisp down to the pixel.   Last but not least you can animate any of the shapes/objects without a single line of code;  Just you, Presenter and your mouse.
Here's how you access the icons:
1- Click on the "Icons" tab
2- Select "Eye Candy" for the new set of assets we just released
3- Filter by category and simply drag and drop desired object to your stage and you're done.   (We're adding more categories very soon)
Our quest to simplify the ability to create great content continues.  If you haven't seriously taken some time to get familiar with Presenter yet or it's been a while since you last logged in , it's time you take a closer look.    Oh and make sure you take advantage of our new Basic timeline.
Don't forget you can also access thousands of images directly within Presenter:
Select from tens of thousands of images from Flikr which we have already integrated with to allow you to search images and insert in your project in a single click.  Images are under Creative Commons license so you can use them free in your project and give a simple credit to the artist. You can use all the images you want and upload your own.
Still here?  Stop reading and start creating!
Login to your account now.