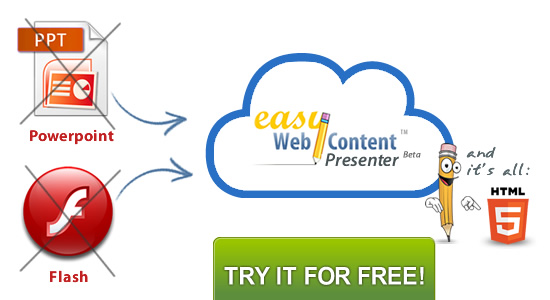 Easy WebContent Presenter Beta is now Live!
Forget about Flash and Powerpoint! Be on the cutting edge of newest HTML5 technology.
We are very excited to announce the launch of Easy WebContent beta! Go and try it now!
What exactly is Presenter?
There are hundreds of applications out there for creating content. Often this content is boring and static and the problem is you often have to use a different tool for a different purpose and most are just too limited and don't allow you to have freedom to do what you want.  We are changing that!
Wouldn't be so much more convenient and cost effective if you could use one program to create different types of professional content?
We thought so and that's why we took the complex challenge to create a platform that will give you the freedom, flexibility and the ease of use.
We call it: Easy WebContent Presenter!
Create interactive content and your audience will love you for it
With Presenter you will have the comfort of using one tool to create content that is interactive and it is always Web and Mobile friendly so you can create:
- Animations for Web or Mobile Devices
- Web Presentations
- Interactive Infographics
- Product Demos
- Presumes (interactive resumes)
- Landing Pages
- Banner Ads and Advertisements
And not to mention other dynamic content as we work full speed to power up the tool during our Beta to handle a series of other tasks you can take advantage of in the coming months.
You can access Presenter now.
Go and try it now:
- Visit www.ewcPresenter.com
- Click the "Try it for Free" button and you'll be on your way.
Already have an Easy WebContent Account?
- Visit www.ewcPresenter.com
- Click the "Login" button on top right and you can access your account. Then click on "Presenter" tab.
Remember, we want your feedback: This will help us to improve the system, because we are on a mission to create the best most efficient system to create awesome content.