The Easy WebContent Blog

The easy to use, do it yourself Site Builder and Website Editing System.
Tag Archives:
Image Editing
Developing a website has only gotten easier with the just the right tools. The Easy WebContent Site Builder gives you the option and ability to develop websites that ranges with simplicity to eye appealing work, putting you in complete control of your web presence. 
Here is an example of a simple website our team produced for our upcoming release of the Easy WebContent Presenter. I highly suggest that you sign up to receive an invitation to beta test the animation tool: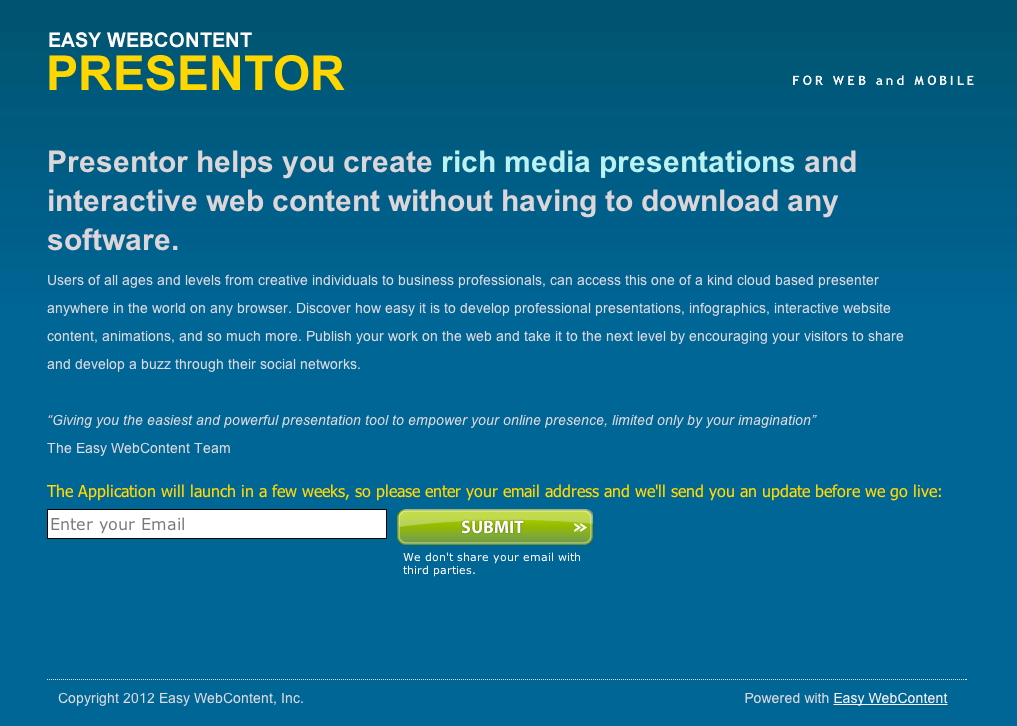 (more…)
Over the past few years we've watched technology develop rapidly. Photo editing can be included in this trend. There are millions of everyday people who have access to a camera of some sort, whether it's through an actual camera, a phone, or other device. As the photography industry has boomed, photo editing has become just as important as the actual photo. Photoshop was the leader of photo editors for a while, but there are now much cheaper alternatives surfacing. Things like Instagram and Picnik have their claims in the photo editing world.

FREDERICK, MD – Easy WebContent today announces the release of the Image Editor, a premium image editor for site builders. The Image Editor was created by HindSite Interactive, one of Maryland's leading web design and development firm. Through the Image Editor, users are given the power to customize their design and theme to their exact specification without any installations or software downloads. This user-friendly and intuitive image editor is available exclusively online through Easy WebContent. (more…)
Posted in
Uncategorized
Tagged

Easy WebContent, Graphics, HindSite Interactive, HTML, html editor, Image, Image Editing, Image Editor, maryland, Site Builder, tumblr, web design, WebContent, website, WYSIWYG
Leave a comment
Blog Categories