Every so often we like to feature an Easy WebContent Site Builder user on our blog. These are real businesses and non-profits from all walks of life who have worked hard to establish their organization and using Easy WebContent have stamped a footprint that better reflects and promotes their brand and services on the world wide web. We recently talked to Mrs. Felix at Minnesota Concert Opera in Minneapolis Minnesota.
Tell us a bit about your organization
Minnesota Concert Opera presents full-length operas with piano or orchestra in a concert version without sets, costumes, or staging. This format places the spotlight on the singers and the music for a unique and thrilling musical experience.
What inspired you to start the Organization?
 After returning to Minneapolis in 2011, we wanted to build a new opera company that provided a professional platform for local and regional singers as well as guest artists from around the country.
Minneapolis/St. Paul is one of the most vibrant arts centers in the country, and we knew we would have an enthusiastic audience for our world-class productions. And because of the scaled-down production issues of concert opera, we knew we would easily be able to set up tours throughout the state that would bring opera to many communities that would otherwise not be exposed to it.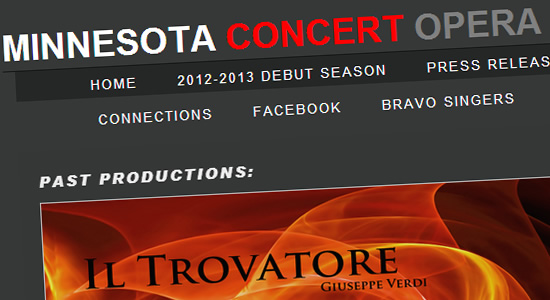 What distinguishes your business/organization from others?
We are the only concert opera organization in the state, and our productions are performed at the new, state-of-the-art Goodale Theatre in the Cowles Center for Dance and the Performing Arts in downtown Minneapolis. With 510 seats, the Goodale Theater is the perfect size for intimate-scale concert opera.
Why did you decide on using the Easy WebContent Site Builder for your web presence needs?
Our audience and artists are attracted to our site to get updates on our productions and activities. They also find links to buying tickets and to our Facebook page, which is an important function of the site. Also, as our "face" to the world, our site reflects our professional and creative spirit and allows visitors to hear our artists on audio and video. We will continue to update our photo galleries and all other elements of the site as our company proceeds into each new artistic season.
What feature/functions do you like most on the Easy WebContent Site Builder?
The ability to customize the templates is very important to us–we want our own unique look. It's great to be able to create video and audio sections. And just as important as the customizable aspect is the SIMPLE interface and great customer service.
How often do you use the Site Builder and update often on your site.
We update about once every two weeks.
For more information about Minnesota Concert Opera visit:  http://www.mnconcertopera.org/