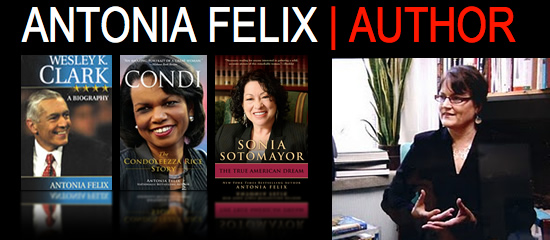 Announcing the Featured WebSite Collection
Every so often we like to feature an Easy WebContent Site Builder user on our blog.
These are real businesses and non-profits from all walks of life who have worked hard to establish their organization and using Easy WebContent have stamped a footprint that better reflects and promotes their brand and services on the world wide web.
Today we feature Antonia Felix, a nationally recognized best selling author with numerous titles under her belt.  She is the instrument behind biographies of Sonia Sotomayor, and well written books on Condoleezza Rice, and First Lady Laura Bush.
Here it is in her own words:
Tell us a bit about your business:
I am the nationally bestselling author of sixteen books, including political biographies and a novel, Fatal Remedy (Winners Books, 2012). My latest political biography is about our first Hispanic Supreme Court Justice, Sonia Sotomayor: The True American Dream (Berkley/Penguin USA, 2011), and I've also written about Secretary of State Condoleezza Rice, General Wesley K. Clark, former Gov. Christie Todd Whitman, and First Lady Laura Bush.
In addition to writing, I am an adjunct professor at Hamline University in St. Paul, Minnesota, where I teach a graduate course about public intellectuals. I've taught English composition and literature survey courses at the university level and been a creative writing facilitator and keynote speaker at writers' conferences and workshops.
In the media, I'm the co-producer/co-host of KFAI-FM's "Write On! Radio," a weekly show about writers and literature that is not only a great opportunity for me to meet some of today's major authors and poets, but a lot of fun. I've always loved radio, and it's exciting to be part of this show.
What inspired you to start your business/organization?
My writing career was launched as a completely unexpected offshoot of my day job in New York City, where I first worked as a copywriter in a publishing house. I met a lot of people in the industry, and while doing some freelance editing for a book packager, I talked my way into my first book project for one of his clients, and my next opportunity to write a biography soon followed.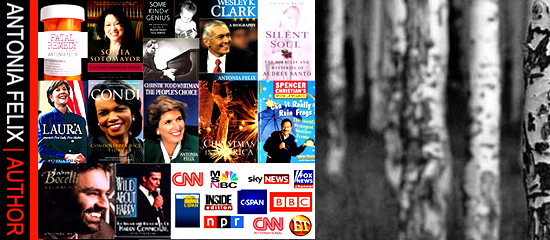 That was in the mid-1990s, and I've been writing full time ever since. I had moved to NYC with my husband to pursue my singing career, and while I still perform as an operatic concert and recitalist, my writing career has been my main source of income. Although I've always loved literature, I had no idea when I went to New York that I would develop a writing career.
What distinguishes your business/organization from others?
I have been fortunate to be the first biographer of some prominent political figures, which has helped me become established as not only a New York Times bestselling biographer, but also as an expert on women in politics. This has given me many opportunities for media appearances and speaking engagements. My background as a performer has also, I believe, enhanced my ability to do well with media spots when promoting my books. I'm very comfortable in front of the camera and behind the microphone.
Why did you decide on using the Easy WebContent Site Builder for your web presence needs?
I wanted to control my site and be able to instantly update and revise it. It's expensive to pay a web designer for these services, and it takes some turnaround time, too. The EasyWeb user interface seemed very user friendly and the price was right.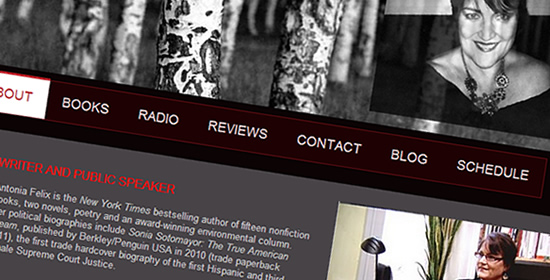 What has your website done for you so far and what do you plan on achieving through it long term?
My website is my profile to the world. I love being able to design it according to my priorities and personality and to constantly bring it up to date. This is where readers, publishers, reviewers, media producers, and others come to check me out, and I couldn't have a career without it.
What feature/functions do you like most on the Easy WebContent Site Builder?
I like being able to sidestep the templates and stock images and bring in my own images and backgrounds to fully customize my site. I'm also grateful for the very simple user interface. But most of all, I am blown away by the great customer service. I receive answers to my questions very quickly, and every time it seems as if the tech staff is personally invested in making sure I'm happy and my problem is solved. They always go the extra mile, and quickly, which really makes them stand out in their line of business.
How often do you use the Site Builder and update often on your site.
I do updates at least once a week. I've done one major re-design in the past six months.
Lastly: We work hard to improve the Site Builder to be the best it can be.   To help us improve it further, what feature/functions do you feel are missing or would you like to see improved in the system?
The one ability I'd like to see added is to have more flexibility with the text and image blocks, especially the image blocks. I'd like to be able to place an image next to another image in the same column instead of below it. Right now I have to go through the extra steps of combining images in Photoshop first, which takes up time I'd rather spend on something else. I'd also like to have room for very large audio clips from my radio show to run on the embedded audio player feature.