Social media has taken the world by storm, and every day the minds behind these websites think of new ways to share information. Sites like Facebook, Twitter, and Tumblr are all competing to introduce the next big thing. They are prime examples of how we are trying to streamline the personal touch. Facebook introduced the Timeline, Twitter updated their interface, and Tumblr offers the endless scroll. Each of these installments offers the user a personalized option but retains its simple, shareable look.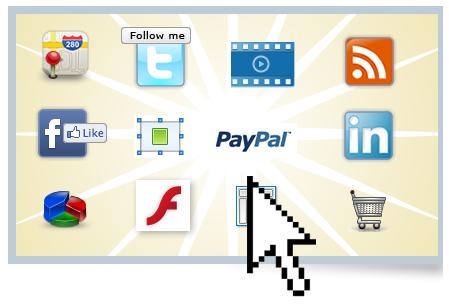 Take Facebook's Timeline, for example. Each member of the network can choose to use the Timeline option, or not. If they do choose to use this feature, the member can determine what picture is used as a banner, what content is displayed, and who is allowed to see what. Each Facebook page can now be personalized to the member, but the overall layout remains constant for each page. It's easy to see how this type of thinking works. Each member gets to express themselves in their own way, but everyone fits together so that things do not become so complicated they are reduced to clutter.
Now, look at Twitter's updated interface. It has become the almost perfect example of how to streamline your GUI (Graphical User Interface). The icons are simple images referring to unique aspects of the Twitter universe. There are five sections of information, and that includes the business details of the site. Every user sees the same thing when they log on. However, each user is allowed to manipulate a few different style options. The background can be changed to a Twitter preset, or the user can upload their own personal image. The color scheme of the page can be changed to the user's desired spectrum. Instead of simply a name, the user is given the ability to input whatever handle they choose. The overall design of the page never changes, but each user gets their own page.
A final example is Tumblr. Tumblr offers more options when it comes to designing a bloggers page, but the simplicity comes into play with the Dashboard. Each blogger signs into Tumblr and, instead of their own blog showing up, they see a simple blue background topped with an icon banner and the blog posts of people they follow. They do not have to click into another blog to read a post, or see a picture, it's all right there ready to be seen. To makes things easier, Tumblr offers the unlimited scroll. So, if one hasn't checked their account in a few days and they've missed pages of posts, one simply continues to scroll until they've caught up. There is even a button that appears at the top right corner of the screen that allows a quick return to the top of the page. If a blogger chooses to access another bloggers page, it's as simple as clicking on the name of the blog. The design is the same for every blogger that signs in, but you see your chosen content, and have the ability to maintain your personal style on your page.
It's simple really, just be simple. Easy WebContent offers that ability. A designer can make their website just as custom as Facebook, as streamlined as Twitter, and as accessible as Tumblr. Or, the designer can break that mold and be as creative as they want. Social media has become a major player in the world, and there is a reason for it. These sites reduce the excess baggage of complete individual control, and offer a custom appearance that suits all parties.
You Are In Charge Easy WebContent provides easy and powerful tools to manage and empower websites.  It gives the user control to edit an existing or build a new professional website.  Visit EasyWebContent.com today to begin your free 7-day trial period!