Baltimore, Md. (PRWEB) April 18, 2013
Easy WebContent, a cloud-based software company that provides easy-to-use website design and content editing tools, today announced the public beta of Easy WebContent Presenter, available at http://www.ewcPresenter.com. The free, cloud-based application allows anyone, from designers to small businesses and non-profit organizations, to maximize the value of their web properties with light, highly interactive features. Easy WebContent Presenter (EWC Presenter) makes it dramatically easier for designers and novices alike to create interactive presentations, animations, infographics, landing pages, product demos and more, entirely in HTML5.
Today's Internet is mobile and dynamic. Business owners and anyone who has ever edited a website understand that today's consumers demand fast, sleek content available on any device. EWC Presenter gives users the ability to augment existing websites with dynamic, interactive content. Users can also create independent content hosted through Easy WebContent and sharable through social media, email and downloads.
Easy WebContent Presenter offers users of all abilities a simple, streamlined tool for creating everything from custom graphics, facebook cover photos and logos to interactive presentations, engaging infographics, galleries and animations. A single-stop for the latest in dynamic content, EWC Presenter helps companies increase the productivity of their website or blog with a more engaging experience.
EWC Presenter is the only fully HTML5-based application designed to offer users a variety of features that are fit for both novice and experienced designers, including:
- Templates for HTML5-based presentations, infographics, product demos and banner ads
- Drag and drop photos, videos, shapes, icons, audio and other rich media content directly onto the canvas and customize them
- Animation tools for making presentations and infographics interactive and engagin
- Special effects for adding drop shadows and reflections to image, text and other content.
- Publishing and embedding tools that allow creations to be viewed by anyone on any browser or device without special plugins as opposed to traditional tools that rely on flash.
"The market is ripe for an affordable, full-featured product that combines creative capabilities with the convenience of the cloud," said Easy WebContent Founder Payman Taei. "We strove to develop a product that would make both novice and advanced users feel equally at home. Whether you're working on a business presentation, a landing page, or creating an amazing interactive infographic, EWC Presenter offers simple tools in a clean intuitive interface."
After the success of Easy WebContent Site Builder, which let users create powerful, professional looking websites without any coding or design experience, the company turned its attention to putting the power of HTML5 into the hands of everyday users and allow them to unleash its power.
"We wanted to make sure users could jump right in," said Taei. "With simple drag-and-drop functionality and no coding in sight, we have eliminated the learning curve of traditional design applications. Users can bring their creations from thought to the web in minutes and come back anytime to continue improving and updating their work."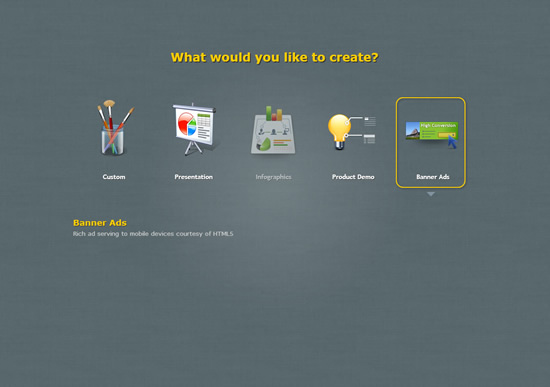 Upon launching EWC Presenter, users of the previous generations of presentation software such as flash and powerpoint will feel right at home with an interface that makes it easy to create slides with images, text, animations, transitions and more.
A full trial of EWC Presenter is available at http://www.ewcPresenter.com/. The Public Beta will be open throughout the spring with pricing details to follow later this year.
About Easy WebContent
Based in Maryland, Easy WebContent makes Do It Yourself tools that empower novices and experienced designers alike to make stunning, professional-looking websites, online presentations and a variety of rich interactive content. Easy WebContent's products offer the easiest and quickest way to create and edit websites and other forms of content from any standard web browser. Easy WebContent is a collaborative effort of professional web designers and developers at HindSite Interactive, Inc., an Internet consulting company providing custom web solutions to businesses and organizations since 2001.