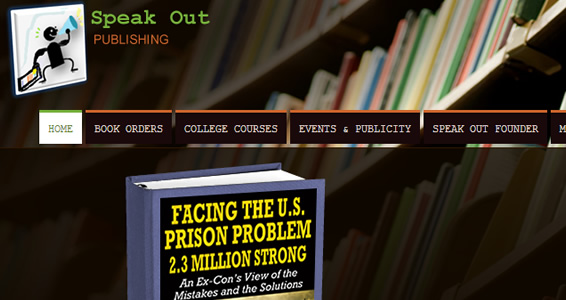 Every so often we like to feature an Easy WebContent Site Builder user on our blog. These are real businesses and non-profits from all walks of life who have worked hard to establish their organization and using Easy WebContent have stamped a footprint that better reflects and promotes their brand and services on the world wide web. We recently talked to Shawn from Speak Out Publishing,  a publishing company for new and upcoming writers.
Tell us a bit about your business
Speak Out Publishing is a unique business for a number of reasons. First, we offer full publishing services for writers, including copyrighting, printing, and marketing. But unlike many publishers, we also offer an array of writing services to enhance what our clients have already prepared. Many of our clients might not be writers at all. At Speak Out Publishing, that's not a problem. We take people's ideas and remove the stress involved with all the technical aspects of writing by helping people bring their ideas to creation. Yes, we will write your book, essay, poem, business project, or even help with college students' term papers.
All our clients have to do is give us the idea, guide us on how they envision the final result, and be available by phone during the writing process.  It's just that simple. Additionally, all the rights belong to our clients, including all the credit for the writing.
Second, we use our website at speakoutpublishing.com to advertise the books we publish, sell them, and have all the proceeds direct deposited into the account of our customers' choosing. For some people, creativity is not the issue. Instead, it is the punctuation, the grammar, the syntax, or the tone of the writing that creates the anxiety. In those cases, we simply clean up the writing. We proofread and professionally edit the material, ensuring that our clients' creative work is maintained.
Third, we are not judgmental. If the topic is politically incorrect, we don't care. At Speak Out Publishing, we promote alternate perspectives and believe in every American's right to exercise free speech. That's why we are called SPEAK OUT PUBLISHING. If someone comes to us with a writing, editing, or publishing project, we will not sit on the project for a year while we decide whether or not our clients should or should not be allowed to disseminate material others might find offensive. That is not our job nor our right to suppress free speech. Moreover, we move much faster toward completion of writing projects, whereas big publishers can take up to a year or more before approving a manuscript. With our company there is no project rejection, only solutions to reach what our clients feel is as close to perfection as they imagined.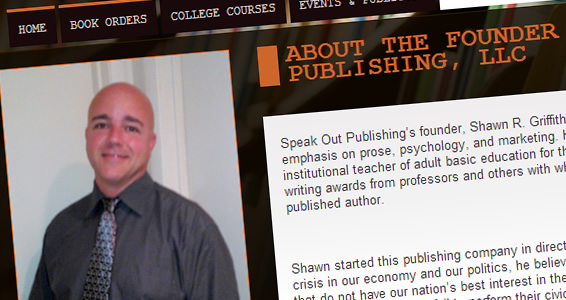 An additional point of our site concerns our company president, Shawn Griffith, and the book he recently published. Shawn believes in free speech not only because its part of the Constitution, but also because he knows what it is like to lose that right…completely. As a youth, Shawn became a teenage cocaine addict. By the age of twenty-one, he had committed so many offenses against the law that he was given a total of twenty-four years to serve in prison.
He served twenty years and has used speakoutpublishing.com to promote his book about those horrowing experiences, and to make a difference in the criminal justice system. Now Shawn has judges, police, and senators as friends and close acquaintances in his day to day life.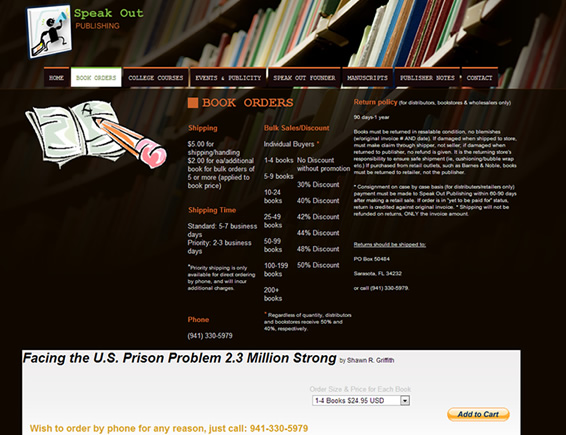 The solutions he proposes (to fix our broken criminal justice system) do not promote coddling of prisoners. Nor do these solutions increase the public debt burden.They are common-sense solutions, based on his own rehabilitation and what he knows works from his own experiences and needs. This is a book that will bring tears to your eyes, make you stomp in anger, and make you pick up the phone to voice what you think about what is really going on in our prisons. The system is designed to ensure more victimization of unsuspecting citizens, and Shawn believes its time for the public to see exactly how and why this is happening.
What inspired you to start your business/organization?
We started this company specifically because we feel the large publishing houses do not adequately meet the needs of writers. The megalithic publishers are impersonal. They don't do a very good job of listening, and sometimes they act as a filter, cutting and chopping out material that some writers feel is inherent to their story or message. At Speak Out Publishing, we not only believe in top notch writing and editing, but also in Supreme customer service. When you get on board with us, you become part of a select group of clients, all of whom get courteous, patient, individualized attention. We take the time to respond completely to our clients' concerns or creative needs.
What distinguishes your business/organization from others?
We have the best writers and editors in the business. Even our own president is a published author and has taught writing and English classes to adults for over sixteen years.
Why did you decide on using the Easy WebContent Site Builder for your web presence needs?
The Easy WebContent Site Builder was much less expensive than other options, and it gave us much more flexibility to make changes as frequently as necessary.
What has your website done for you so far and what do you plan on achieving through it long term?
Our website has allowed us to market books and sell them easily and in an affordable manner. We have new books in the pipeline, and the site allows us to adjust our pages to reflect these new books.
What feature/functions do you like most on the Easy WebContent Site Builder?
We like the ability to be creative with our presentations.  If we want BOLD letters of different fonts, no problem. If we want to post videos of important updates for our clients, we can. If we want to change the layout of one or more pages, it's easy.
How often do you use the Site Builder and update often on your site.
We can update as frequently as daily. On one day we have changed things up to twenty times because of new information that moves so quickly on the internet.
Lastly: We work hard to improve the Site Builder to be the best it can be.   To help us improve it further, what feature/functions do you feel are missing or would you like to see improved in the system?
Nothing. It's fine just as it is.