Creating a Presentation doesn't have to be hard or frustrating.  It shouldn't require different software and should be a quick and seamless process.
That's a challenge we often faced at our Web consulting firm HindSite Interactive.  Yes there is PowerPoint but it's offline based and is a hassle to share among your colleagues or clients;  then there is Google Slides and other online based presentations but they're a bit too cookie cutter for our taste giving you the bare minimum to create sub-par slideshows.
That's why we decided to take things into our own hands and create Visme (formerly called EWC Presenter).   To create presentations quickly and easily while having total flexibility over design and tap into the clean templates and the thousands of free icons and assets when we need it.
Is it really that easy and should I really adopt this over the many other Presentation Apps?
Let's take a closer look:
Prezi:   Great at what it does but it allows one format of non linear transition. So you're always restricted to the zoom in and zoom out effect.  At first it's cool but eventually it can feel like you're getting motion sickness.  For some it's not their cup of tea and they prefer the more linear approach.   It also does require a little bit of a learning curve to get past the basics.
PowerPoint and Keynote:  Around for number of years both are good software but traditionally based on old method of downloading software locally and accessible to edit from computers that have the software installed. They also have little to no online sharing capabilities.
Google Presentations:  Part of the Google Docs cloud based tools,  Presentations by Google Docs are also linear (slides) and allow one to create simple slide decks.   There are a lot of limitations when it comes to customization and going beyond basic visuals.
The list can go on as there are many others tools.  At Easy WebContent we are not here to tell the user what they should or should not use.   Our mission is quite simple:  to give powerful yet easy to use tools that simplify the content creation process and give the user full control to express ideas and tell stories effectively without being limited by the tool they use but instead by their imagination.
We're striving to make Visme follow this mission by giving you just enough to have a great starting point but also give you lots of assets and flexibility to quickly populate and visualize your ideas.
So here goes.  In as little as 5 minutes, you can login, create a new Presentation , add your slides and populate and in one click Publish your work.   Then in seconds share it via email, social media of your choice or post to your own website or blog. Last but not least you can even download your work as an image, PDF or even the sought after HTML5 format to use offline or upload to your site.
Now before you convict me of using a cliche statement (can you really create a Presentation in 5 minutes…) the answer is yes you sure can.  Naturally if you want to create multiple slides or need to think of the content you want to add to each slide it will take you longer,  but I will promise you one thing;  it doesn't get much easier than this.
Step 1: Select a Presentation
You can start by creating a Presentation and then select from preset themes that give you a simple starting point.

Add a Slide
Every Preset begins as one single slide.  You can easily click the "+ Slide" button to launch the Slide templates and add new slides in seconds.

Select a Preset
Choose from multiple slide templates that are pre-filled with content blocks.  so you can just click a slide template you like and then update the content to fit your needs.
Add your Content
You can add virtually any type of text or visual asset to your Presentation.   From static and dynamic text in various fonts and styles, thousands of free vector icons to support your content, millions of free images and the ability to upload your own, to charts, graphs and infograph widgets, videos and even audio controls.
Apply and customize transitions between slides
You have the ability to control transition between slides including the type of transition that will take place and the transition time. Learn more here.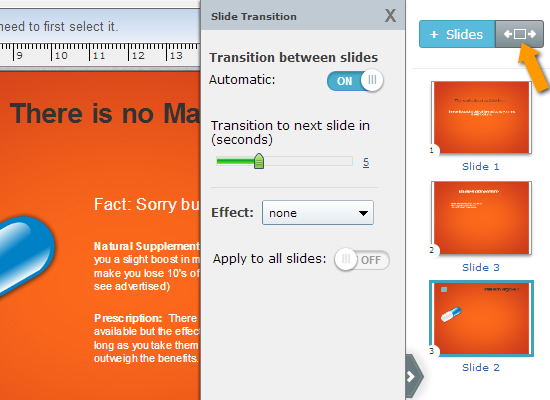 And if you want to take things a step further..
Animate any object on stage
Visme goes beyond simple static presentations. Every element you place on your stage can have motion.  You simply click on an object and then add your animation style including the start, ending and duration by selecting from a number of presets available.
Last step. Publish your project in one click
When ready, click the "Publish" button and the system will publish your project and allow you to deliver it online, embed to a site or even download in all standard formats for use offline.
You can also embed your work to your own website or blog similar to how you embed YouTube videos.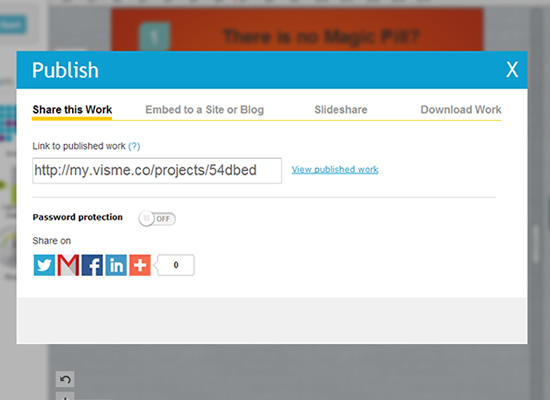 Want to see it in action? Watch this short video or register for a free account and start creating awesome.