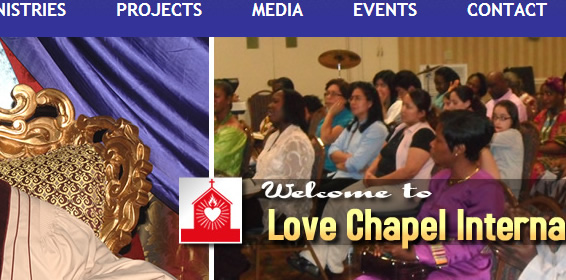 Building a website for your church can be one of the most creative and rewarding things you can do to spread the gospel of Christ.
There's a growing population of youths and even adults who spend the majority of their time online and having a website could help you reach them in a new, effective way. Here are some major benefits to having a website for your church:
1. You reach new people from all over the world: The gospel of Jesus doesn't have to be restricted only to people who can attend your church. You can publish sermons in forms of articles, share a story from the bible or broadcast videos from one of your church programs to your website online.
2. It can serve as a way for church members to meet and discuss online: Not only can they find information, messages or spiritual lessons on your website on a regular basis, they can actually congregate and engage in active discussions online on a consistent basis.
3. Make announcements about events and programs: For the busy, tech-savvy people who spend most of their time at work and in front of their computers you can create awareness about your website. Just announce your programmes on your website and they can confirm what's happening anytime.
4. Attract new members and converts: Sometimes, someone who is nearby who wants to attend church doesn't know exactly which church they can attend. You can share your ideals on your website and invite new members, letting them know they will be welcome. You can even help people confess and be saved through your website.
5. Get free advertising: You can benefit from press online, effective marketing without spending on advertising due to your website.
This infographic shares a few more benefits:

5 Steps to Create Your Church Website
Creating a website for your church doesn't has to be complicated and expensive. Even if you're on a shoestring budget, you can still create an effective website for your church. Here are 5 steps you should follow to create a website for your church:
Step 1: Come up with a plan
When building your church website, the first step is not to start with the web.
Of course, you've heard about internet technology and the power of blogging, how great having a website is and how many people you reach. It's often not as glamorous as it sounds.
Building a successful website requires some work and effort and it's important to plan things from the beginning; the first thing you want to do is come up with a plan.
You'll have to work on is communicating your mission statement, having the right tools to ensure your website is active and regularly updated as well as a solid plan on how you'll go about marketing your church website.
Of course, this will involve some research and a lot of hard work but it's crucial to figure things out before you start; once you've figured things out, you can then work on building a team that will do most of the work involved.
Step 2: Come up with domain name ideas
You could get the church involved and tell members to submit ideas or you could have a committee come up with a name.
It's very important, however, that your domain name communicates a message about your church; you don't want to use a random domain name. Instead, you could go with your church name or come up with something creative and descriptive if your church name has already been taken.
Step 3: Organize a team that will be updating the website
It's better not to have a website at all than to have a dormant website. That won't speak well about your church.
Now that you have a domain name in mind, before you actually go ahead to create your website, the next step is to organize a team that will be updating the website regularly.
You could publish anything from tips from ministers, a weekly message from the pastor in charge, church program announcements etc. The team you organize will be in charge of this and will ensure the church website is always active.
Step 4: Create your website
Once you've finalized everything from how you plan to operate your church website, who will be updating the website as well as which domain name to use, the next step is to create your website.
You can start by creating a domain name at Namecheap.com
The next step is to actually build your church website.
Contrary to what you might have heard before, this doesn't have to be expensive; you don't have to worry about hiring a programmer or spending thousands of dollars on website design. For less than $20 a month, you could register with Easy WebContent to create your website.
You'll be provided with an easy to use interface, that makes it easy to design your website and see the exact changes you make live. The platform is also easily used by anybody and there are tutorials that give you step by step instructions in case you're not getting something right.
An example church created with Easy Webcontent is Love Chapel International.
Step 5: Start building your website
The next step is to start building your website; start by creating a logo that matches that of your brand or by using one you already have, select a theme of your choice in the Easy WebContent dashboard and then tweak it until you're pleased with what you get.
Start creating basic pages on your website; this includes an about page containing details about your church, mission statement and your exact church location. A contact page that allows people to get in touch with someone from the church for counsel and advice, an announcement page where major announcements in the church are made, a blog where regular postings and updates are made, a gallery where you can constantly showcase pictures of various members of the church, events and things happening so that people can connect and feel involved.
How to Market your website
Once all the above steps have been done, the next step is to market your church website. Here are a few ways to market your church website:
1. Announce it in your church: Announce it to existing church members so that they're aware; tell them to tell their friends about it, print it on flyers and any advertising for your church and ensure every church member is involved.
2. Create your social media accounts: Create a Twitter or Facebook account that is advertised on your website as well as to your church members. The aim of this profile is to announce updates and postings on your website; it also allows church members to retweet articles and updates posted to your social media stream, resulting in more people discovering your website as a result.
3. Get bloggers and webmasters involved: Look for religious blogs online as well as websites of other churches or pastors; if you can get them to write about your church and your church website, great. If you can't get them to write about you, get in touch with them about contributing an guest post to their website in exchange for a short bio where you can mention your church website.
5 Tips to Help You Get the Best from Your Church Website
1. Have a Proper Navigation Structure: It's important to make it easy for people to move through your site; having a proper navigation structure for your site also makes it extremely easy for search engines to find, index and rank pages on your website.
This include links to key pages on your website in your navigation bar as well as constantly linking to them in articles you publish.
2. Keep it active and updated: Content is very important online; not only does it ensure you're findable online and that people can easily contact with your message.
You can publish various forms of content on your website and here are some ideas:
Get your church website team to participate regularly

Get church members to contribute regularly or occasionally; this could be a message about their salvation, how they overcame a certain problem or a testimony
Publish updates and announcements about events
Publish videos of key events, upload the videos on video sharing sites like Youtube.com or Vimeo.com and then embed the videos on your website
Have an online gallery that contains images of key events; this could be member images, event images and other images you think are necessary.
This might seem like a lot of things to do but it isn't difficult. It will also help you connect with people and effectively pass your message across.
If you use the Easy WebContent site builder, doing the above things won't be an issue so you don't have to worry.
3. Encourage contacting you: Make it easy for people to contact you through your website, you could get new converts by ministering to those who confide in you through the church website.
4. Answer reader questions on your church website: When people contact you, with their permission, you can occasionally answer their question on your website so that other people can relate and connect with people from other parts of the world.
5. Encourage community: This could be from church members or from people from all over the world; encourage community and get people to discuss.