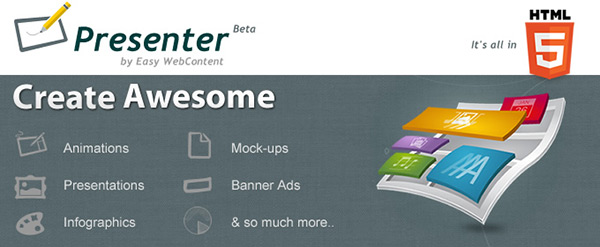 EWC Presenter has been receiving rave reviews from numerous blogs and sources and our hard work is starting to turn heads.   For example just recently Noupe a leading Design Blog took Presenter for a test drive and below is an excerpt:
"Say farewell to Powerpoint, Flash or whatever tool you are currently using to create presentation slides, banner ads, infographics or product demos. EWC Presenter by HindSite Interactive (Parent company of Easy WebContent)  is a powerful, web-based HTML5 editor that does not want any less than change the way you create professional content. The folks at HindSite say they are on a mission and you better believe them…"
"Presenter's editor sports a drag & drop interface that actually works reliably. Building presentations is easy, helpers are available at your fingertips – if you want them.  Even my favorite helper in WYSIWYG design "snap to grid" is present, and comes with a grid that can be customized pixel-wise from 0 to 100 pixels squared or not."
"Noupe puts all thumbs up!" Read Full Review
We're just scratching the surface:
It's been a little over five months since we launched the Beta version of EWC Presenter and we continue to work hard to improve and refine the system thanks to the feedback we receive from our users including perhaps yourself.    We have come a long way with new features and improvements and rest assured, we're just starting to scratch the surface of bigger things to come as we inch closer to fulfilling our mission to "simplify the ability to allow anyone to create awesome visual content; content that displays on all devices and platforms on publish."

Our animation engine has been refined and simplified so even the novice without any motion graphic skills can in seconds create professional animations.  We have added thousands of Vector assets and integrated with Flikr to allow you to access tens of thousands of high quality photos right in the app.
Login to your account and take advantage of the new features and keep your eye out because we have some cool surprises under our belt that will soon roll out to Presenter.    If you haven't registered for Presenter it's time you join.  It's free.