Easily within your Reach.
Create Exceptional Websites for Free - Keep It Running under $9 a month!
| | | |
| --- | --- | --- |
| A browser and a Free Easy WebContent account; That's all you need to design and publish your own professional website the way you always wanted. Create your site using our extremely easy to use interface, select from our flexible themes, choose from thousands of free assets, | | or fully customize it with your own photos, movies, text, and widgets and then whenever your ready Publish to the Web in one click. With Easy WebContent your website is always within your reach, so come back to edit and update it anytime, from anywhere! Try it for yourself free today or learn more below. |
For a better video experience switch to full screen and change to 720p HD instead of the 360p default setting


Design the website you always wanted easily!
We offer a variety of fully customizable themes for you to start from be it for Business, Personal, or Non-profit use. Each template comes with different styles and full elastic control to suit your specific design needs.This gives you countless possibilities and allows you to make your site unique as you.
You are in Control
Easy WebContent takes pride on how easy it is to build a fully functional professional website your way. What traditionally took tens or hundreds of hours and the expertise of a web designer can now be done in less than a few hours by virtually anyone be it a beginner or a professional with absolutely no programming experience.
Get tons of easy powerful tools in one user friendly system:

Fully drag and drop system
No coding. drag objects to your page.

Elastic themes
Easy to use and customizable

Color Schemes
Choose from many predefined
color schemes

Page Templates
Simplify page creation with
pre-designed starter templates

Layout Objects
Fully customize your page
with layout objects

Content Editing
Fully "What You See Is What
You Get" Content Editor

Page Elements
Your pages are composed of elements.
Easily adjust to your needs.

Multimedia Features
Image, Flash, Videos, Audio
Integration and more.

Google Maps, Directions
and more.

Easy WebContent Add-ons
(Exclusive only to
Easy WebContent System)

Ecommerce
Sell securely through Google
Checkout and Paypal Buy options

Social Integration
Social Tools. widgets
and more.

Embed Custom HTML
Add virtually any third party
embed codes to your pages

My ImageEditor
(Edit your images directly
within the Builder

Stats and Resources
Track web traffic and Resource
usage on your website.

Help, Tutorials and Support
Lots of tutorials and help tips
as well as human support.

and more features...
We regularly upgrade our system
with new features!
No complicated design programs to buy. No obstacles between you and a great looking website.

What makes Easy WebContent unique?
It's ease of use balanced with total control at your finger tips. And when others give you restricted templates, we give you our flexible Elastic themes. Learn more below.
You are not limited to our designs, because our themes are Elastic!
One of the big advantages using Easy WebContent Site Builder is that we offer you elastic site themes, NOT restricted templates. With our elastic themes, you have total control over your website layout.
Nearly every single component is editable. And if you are familiar with HTML & CSS code, you can take advantage of the advanced options to customize the theme to your exact specifications.

Fully Customizable Designs
Each theme comes with coordinated fonts, backgrounds, and colors to give your site a consistent look throughout so you have a great starting point. You can add all your desired content (photos, icons, media, widgets, and more) to the theme. Or go even a step further to fully customize and modify the theme to your exact liking.
Unlimited Color Choices to style your themes
Select from a variety of preset color schemes and color variations to easily and quickly assign new colors to your theme. Choose from over a million colors! You can also override preset colors and add your own own color variations.
Add Great Features to your Website!
Content is what connects you to your visitors and sparks their interest. We have you covered with every tool you need to easily and quickly populate your site with your own content. Type or paste text into placeholder content blocks, drag in photos, icons, movies, social features and go a step further with our exclusive Easy WebContent Add-ons! All you do is drop the widget you want anywhere on your page.
Text
It's like having a word program inside the Site Builder. Copy and paste your content, or type your content in content blocks and fully stylize and format the content to your liking. Add image next to your text, modify position, font, color, style and much more.
Photos and Icons
It's as if we put photoshop inside the Site Builder.
An exclusive Easy WebContent feature. Adding and updating images has never been easier. Go beyond just resize and rotating photos. Go further and use our photo filter series such as blur, drop shadows, color adjust, overlays and much more.
You are in charge of your images. There is no coding required and everything is done right within the builder.
Widgets
Add everything from social widgets, maps, and interactive features to your pages. You can add anything from Social to Maps, third party widgets from YouTube, Vimeo, Twitter, Facebook, LinkedIn, Paypal Buttons, Google Analytics and so much more...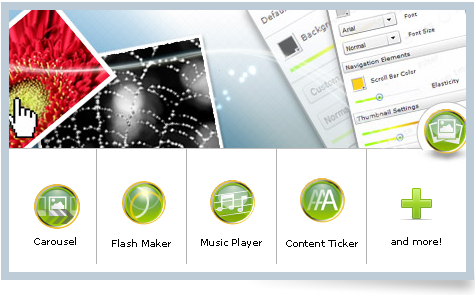 Special Add-ons
Take advantage of our Add-on series, exclusive only to Easy WebContent system users! Add fully customizable photo galleries, Music Players, Flash Slide Shows, Scrolling Banner content, your way.
Give your website some awesome features!
Isn't it time you tried Easy WebContent? Common give us a shot. We know you'll like us!

Easily update & make changes to your site
Our system is built so you have the ability to login through our easy to use console to fully manage and update your website. You will also have the ability to fully track and collect visitor statistics.
Search Engine Optimization (SEO)
Leading search engines such as Google love to crawl new web pages and index them. We make it easier for google spiders to crawl your site! You have complete control over optimizing your site for better search engine optimization. From updating meta tags and managing your page URL's, you can make sure that google gives your site the reputation it needs and take charge on managing each of your web pages for better SEO.
Fully track your website traffic
Being able to track your visitors and collect data from each visitor is one of the most important parts of running and managing your website. With Easy WebContent Site Builder you can install the Powerful free Google Analytics in seconds! This will give you the ability to fully track visitor behavior, pageviews and so much more.
Easily Publish to Web (Hosting Included!)
Publishing a website has never been easier. Publish your website whenever you want, directly from the builder. No third party service needed, no complicated FTP access to input, no hosting needed. It is all inclusive and within your reach.
Publish your site, and come back and edit, update and publish your updates anytime using our one click publish to web feature.
Easy Setup with Peace of Mind
We will take care of the hosting setup and configuration, there is no software to install or update on your side, your hosting will be setup at the same time your account is setup with us.
We use Amazon Cloud Solutions to ensure that your website is accessible from any Internet connection at blazing fast speeds. Data centers across the country help bring your content quickly and swiftly at optimum speed.
Support is here for you
| | | |
| --- | --- | --- |
| 24/7 support via our ticketing system. We have loads of documentation and video tutorials to assist you with any questions you may have. Please be sure to checkout our help section; over 90% of user questions are answered there. | | And if there is ever a question/ problem you have that is not answered through our help section, our support team will answer it promptly via our ticketing system. |
Click here for Frequently Asked Questions
Click here for Site Builder Help and Tutorials